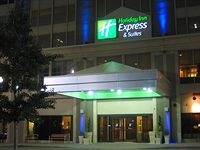 Holiday Inn Express Hotel & Suites Detroit Downtown
1020 Washington Blvd, Detroit, MI 48226
1.800.252.8419
About Holiday Inn Express Hotel & Suites Detroit Downtown
Holiday Inn Express Hotel & Suites Detroit Downtown is a Hotel business in Downtown
Property Location
Holiday Inn Express Hotel & Suites Detroit Downtown is in the heart of Detroit, walking distance from Campus Martius Park and Cobo Center. This family-friendly hotel is within close proximity of Guardian Building and Joe Louis Arena.
Rooms
Make yourself at home in one of the 240 guestrooms featuring refrigerators and microwaves. Satellite programming and video-game consoles are provided for your entertainment, while complimentary wireless Internet access keeps you connected. Private bathrooms with shower/tub combinations feature complimentary toiletries and hair dryers. Conveniences include desks and complimentary weekday newspapers, as well as phones with free local calls.
Rec, Spa, Premium Amenities
Don't miss out on recreational opportunities including an indoor pool and a 24-hour fitness center. This hotel also features complimentary wireless Internet access, a fireplace in the lobby, and a television in the lobby. Getting to nearby attractions is a breeze with the complimentary area shuttle that operates within 3 mi.
Dining
A complimentary buffet breakfast is served daily.
Business, Other Amenities
Featured amenities include a 24-hour business center, express check-out, and complimentary newspapers in the lobby. Planning an event in Detroit? This hotel has facilities measuring 2109 square feet (196 square meters), including conference space.
Holiday Inn Express Hotel & Suites Detroit Downtown Amenities
24-hour business center
24-hour fitness facilities
24-hour front desk
ATM/banking
Accessibility equipment for the deaf
Accessible bathroom
Accessible parking
Accessible path of travel
Area shuttle (complimentary)
Braille or raised signage
Complimentary newspapers in lobby
Conference space
Conference space size (feet) - 2109
Conference space size (meters) - 196
Dry cleaning/laundry service
Elevator/lift
Express check-out
Fireplace in lobby
Free Wi-Fi
Free breakfast
In-room accessibility
Indoor pool
Laundry facilities
Luggage storage
Multilingual staff
Number of floors - 17
Number of meeting rooms - 2
Pets allowed
Roll-in shower
Safe-deposit box at front desk
Smoke-free property
Television in lobby
Total number of rooms - 240
Valet parking (surcharge)
Holiday Inn Express Hotel & Suites Detroit Downtown One King Bed, Non-Smoking, Accessible
1 king bed
Entertainment - Free Wi-Fi, satellite channels, and pay movies
Food & Drink - Refrigerator, microwave, and coffee/tea maker
Bathroom - Private bathroom with a shower/tub combination, free toiletries, and a hair dryer
Non-Smoking

Room Amenities
Coffee/tea maker
Complimentary toiletries
Complimentary weekday newspaper
Connecting/adjoining rooms available
Cribs/infant beds available
Daily housekeeping
Desk
Free Wi-Fi
Free local calls
HDTV
Hair dryer
Iron/ironing board
Microwave
Pay movies
Phone
Private bathroom
Refrigerator
Rollaway/extra beds available
Satellite TV service
Shower/tub combination
Video-game console
Holiday Inn Express Hotel & Suites Detroit Downtown Suite, One King Bed, Non-Smoking
1 king bed
Entertainment - Free Wi-Fi, satellite channels, and pay movies
Food & Drink - Refrigerator, microwave, and coffee/tea maker
Bathroom - Private bathroom with a shower/tub combination, free toiletries, and a hair dryer
Non-Smoking

Room Amenities
Coffee/tea maker
Complimentary toiletries
Complimentary weekday newspaper
Connecting/adjoining rooms available
Cribs/infant beds available
Daily housekeeping
Desk
Free Wi-Fi
Free local calls
HDTV
Hair dryer
Iron/ironing board
Microwave
Pay movies
Phone
Private bathroom
Refrigerator
Rollaway/extra beds available
Satellite TV service
Shower/tub combination
Video-game console
Holiday Inn Express Hotel & Suites Detroit Downtown Room, 1 King Bed, Non Smoking
1 king bed
Entertainment - Free Wi-Fi, satellite channels, and pay movies
Food & Drink - Refrigerator, microwave, and coffee/tea maker
Bathroom - Private bathroom with a shower/tub combination, free toiletries, and a hair dryer
Non-Smoking

Room Amenities
Coffee/tea maker
Complimentary toiletries
Complimentary weekday newspaper
Connecting/adjoining rooms available
Cribs/infant beds available
Daily housekeeping
Desk
Free Wi-Fi
Free local calls
HDTV
Hair dryer
Iron/ironing board
Microwave
Pay movies
Phone
Private bathroom
Refrigerator
Rollaway/extra beds available
Satellite TV service
Shower/tub combination
Video-game console
Holiday Inn Express Hotel & Suites Detroit Downtown Room, 1 King Bed, Non Smoking
1 king bed
Entertainment - Free Wi-Fi, satellite channels, and pay movies
Food & Drink - Refrigerator, microwave, and coffee/tea maker
Bathroom - Private bathroom with a shower/tub combination, free toiletries, and a hair dryer
Non-Smoking

Room Amenities
Coffee/tea maker
Complimentary toiletries
Complimentary weekday newspaper
Connecting/adjoining rooms available
Cribs/infant beds available
Daily housekeeping
Desk
Free Wi-Fi
Free local calls
HDTV
Hair dryer
Iron/ironing board
Microwave
Pay movies
Phone
Private bathroom
Refrigerator
Rollaway/extra beds available
Satellite TV service
Shower/tub combination
Video-game console
Holiday Inn Express Hotel & Suites Detroit Downtown Suite, 1 King Bed, Non Smoking, Kitchenette
1 king bed
Entertainment - Free Wi-Fi, satellite channels, and pay movies
Food & Drink - Refrigerator, microwave, and coffee/tea maker
Bathroom - Private bathroom with a shower/tub combination, free toiletries, and a hair dryer
Non-Smoking

Room Amenities
Coffee/tea maker
Complimentary toiletries
Complimentary weekday newspaper
Connecting/adjoining rooms available
Cribs/infant beds available
Daily housekeeping
Desk
Free Wi-Fi
Free local calls
HDTV
Hair dryer
Iron/ironing board
Microwave
Pay movies
Phone
Private bathroom
Refrigerator
Rollaway/extra beds available
Satellite TV service
Shower/tub combination
Video-game console
Holiday Inn Express Hotel & Suites Detroit Downtown Room, 2 Queen Beds, Non Smoking
2 queen beds
Entertainment - Free Wi-Fi, satellite channels, and pay movies
Food & Drink - Refrigerator, microwave, and coffee/tea maker
Bathroom - Private bathroom with a shower/tub combination, free toiletries, and a hair dryer
Non-Smoking

Room Amenities
Coffee/tea maker
Complimentary toiletries
Complimentary weekday newspaper
Connecting/adjoining rooms available
Cribs/infant beds available
Daily housekeeping
Desk
Free Wi-Fi
Free local calls
HDTV
Hair dryer
Iron/ironing board
Microwave
Pay movies
Phone
Private bathroom
Refrigerator
Rollaway/extra beds available
Satellite TV service
Shower/tub combination
Video-game console
Holiday Inn Express Hotel & Suites Detroit Downtown Standard Room, Non Smoking
1 king bed or 2 queen beds
Entertainment - Free Wi-Fi, satellite channels, and pay movies
Food & Drink - Refrigerator, microwave, and coffee/tea maker
Bathroom - Private bathroom with a shower/tub combination, free toiletries, and a hair dryer
Non-Smoking

Room Amenities
Coffee/tea maker
Complimentary toiletries
Complimentary weekday newspaper
Connecting/adjoining rooms available
Cribs/infant beds available
Daily housekeeping
Desk
Free Wi-Fi
Free local calls
HDTV
Hair dryer
Iron/ironing board
Microwave
Pay movies
Phone
Private bathroom
Refrigerator
Rollaway/extra beds available
Satellite TV service
Shower/tub combination
Video-game console
Holiday Inn Express Hotel & Suites Detroit Downtown Suite, 2 Queen Beds, Non Smoking
2 queen beds
Entertainment - Free Wi-Fi, satellite channels, and pay movies
Food & Drink - Refrigerator, microwave, and coffee/tea maker
Bathroom - Private bathroom with a shower/tub combination, free toiletries, and a hair dryer
Non-Smoking

Room Amenities
Coffee/tea maker
Complimentary toiletries
Complimentary weekday newspaper
Connecting/adjoining rooms available
Cribs/infant beds available
Daily housekeeping
Desk
Free Wi-Fi
Free local calls
HDTV
Hair dryer
Iron/ironing board
Microwave
Pay movies
Phone
Private bathroom
Refrigerator
Rollaway/extra beds available
Satellite TV service
Shower/tub combination
Video-game console
Holiday Inn Express Hotel & Suites Detroit Downtown Two Queen Beds, Non-Smoking, Accessible
2 queen beds
Entertainment - Free Wi-Fi, satellite channels, and pay movies
Food & Drink - Refrigerator, microwave, and coffee/tea maker
Bathroom - Private bathroom with a shower/tub combination, free toiletries, and a hair dryer
Non-Smoking

Room Amenities
Coffee/tea maker
Complimentary toiletries
Complimentary weekday newspaper
Connecting/adjoining rooms available
Cribs/infant beds available
Daily housekeeping
Desk
Free Wi-Fi
Free local calls
HDTV
Hair dryer
Iron/ironing board
Microwave
Pay movies
Phone
Private bathroom
Refrigerator
Rollaway/extra beds available
Satellite TV service
Shower/tub combination
Video-game console
Holiday Inn Express Hotel & Suites Detroit Downtown Two Beds, Non-Smoking, Accessible
2 beds
Entertainment - Free Wi-Fi, satellite channels, and pay movies
Food & Drink - Refrigerator, microwave, and coffee/tea maker
Bathroom - Private bathroom with a shower/tub combination, free toiletries, and a hair dryer
Non-Smoking

Room Amenities
Coffee/tea maker
Complimentary toiletries
Complimentary weekday newspaper
Connecting / adjoining rooms available
Cribs/infant beds available
Daily housekeeping
Desk
Free Wi-Fi
Free local calls
HDTV
Hair dryer
Iron/ironing board
Microwave
Pay movies
Phone
Private bathroom
Refrigerator
Rollaway/extra beds available
Satellite TV service
Shower/tub combination
Video-game console
Holiday Inn Express Hotel & Suites Detroit Downtown One King Bed, Non-Smoking, Roll In Shower
1 king bed
Entertainment - Free Wi-Fi, satellite channels, and pay movies
Food & Drink - Refrigerator, microwave, and coffee/tea maker
Bathroom - Private bathroom with a shower/tub combination, free toiletries, and a hair dryer
Non-Smoking

Room Amenities
Coffee/tea maker
Complimentary toiletries
Complimentary weekday newspaper
Connecting / adjoining rooms available
Cribs/infant beds available
Daily housekeeping
Desk
Free Wi-Fi
Free local calls
HDTV
Hair dryer
Iron/ironing board
Microwave
Pay movies
Phone
Private bathroom
Refrigerator
Rollaway/extra beds available
Satellite TV service
Shower/tub combination
Video-game console
Holiday Inn Express Hotel & Suites Detroit Downtown Room, 1 King Bed, Accessible, Non Smoking
1 king bed
Entertainment - Free Wi-Fi, satellite channels, and pay movies
Food & Drink - Refrigerator, microwave, and coffee/tea maker
Bathroom - Private bathroom with a shower/tub combination, free toiletries, and a hair dryer
Non-Smoking

Room Amenities
Coffee/tea maker
Complimentary toiletries
Complimentary weekday newspaper
Connecting / adjoining rooms available
Cribs/infant beds available
Daily housekeeping
Desk
Free Wi-Fi
Free local calls
HDTV
Hair dryer
Iron/ironing board
Microwave
Pay movies
Phone
Private bathroom
Refrigerator
Rollaway/extra beds available
Satellite TV service
Shower/tub combination
Video-game console
Holiday Inn Express Hotel & Suites Detroit Downtown Suite, 1 King Bed, Accessible, Non Smoking
1 king bed
Entertainment - Free Wi-Fi, satellite channels, and pay movies
Food & Drink - Refrigerator, microwave, and coffee/tea maker
Bathroom - Private bathroom with a shower/tub combination, free toiletries, and a hair dryer
Non-Smoking

Room Amenities
Coffee/tea maker
Complimentary toiletries
Complimentary weekday newspaper
Connecting / adjoining rooms available
Cribs/infant beds available
Daily housekeeping
Desk
Free Wi-Fi
Free local calls
HDTV
Hair dryer
Iron/ironing board
Microwave
Pay movies
Phone
Private bathroom
Refrigerator
Rollaway/extra beds available
Satellite TV service
Shower/tub combination
Video-game console
Holiday Inn Express Hotel & Suites Detroit Downtown Room, Accessible, Non Smoking
2 beds
Entertainment - Free Wi-Fi, satellite channels, and pay movies
Food & Drink - Refrigerator, microwave, and coffee/tea maker
Bathroom - Private bathroom with a shower/tub combination, free toiletries, and a hair dryer
Non-Smoking

Room Amenities
Coffee/tea maker
Complimentary toiletries
Complimentary weekday newspaper
Connecting / adjoining rooms available
Cribs/infant beds available
Daily housekeeping
Desk
Free Wi-Fi
Free local calls
HDTV
Hair dryer
Iron/ironing board
Microwave
Pay movies
Phone
Private bathroom
Refrigerator
Rollaway/extra beds available
Satellite TV service
Shower/tub combination
Video-game console